Alternative Energy Development, Corporation is the industry leader in timely and successfully constructing North America's largest photovoltaic and wind power-generation plants. AED's partnership with its material-supply affiliate, WTEC, and its engineering affiliate, RERC, integrate with AED's superior solar and wind construction experience by contributing a wealth of value-adding efficiencies, such as the industry's most agile and competitive procurement team and the most talented renewable engineering and design services available today.
Our construction professionals know renewable energy construction. AED not only has the industry's most experienced construction management team, but from the top down, AED's organization is structured to deliver efficient and reliable construction services with a dual focus on maintaining both cost-effectiveness and AED's superior reputation for quality workmanship. Our construction professionals participate in a project's development from the initial engineering and design stages, contributing invaluably by putting boots on the ground to perform on-site investigations and integrating those investigations' findings into a project-design that stands the test of real-world application.
On the solid foundation of construction professionalism, AED has established an equipment, logistics, and material-supply structure that is unrivaled in the renewable energy sector. AED's fleet of trenchers and Turchi pile drivers is one of the largest in the country, and the fleet's mobilization-managers ensure that this powerful equipment gets the job done—wherever and whenever needed.
AED's affiliate, WTEC, is the largest supplier of steel in the renewables industry and manufactures project-components with an eye to reducing labor in the field, translating to construction cost-savings. WTEC prides itself on the versatility and flexibility that this constantly developing industry demands.
AED's superior professionals, powerful equipment, and synergy with WTEC's innovative material-supply are some of the resources that make AED the industry's go-to construction-services provider, ranging from superior pile-testing and pile-driving expertise to delivering comprehensive EPC services.
Project Portfolio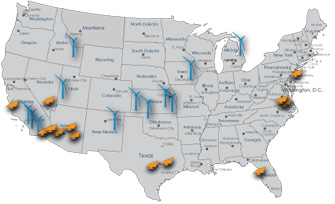 See our complete Wind and Solar Project List
AED is also working on projects in Suriname, Nigeria, Sierra Leone, Honduras, Guyana, Australia and various others.
Integrated Group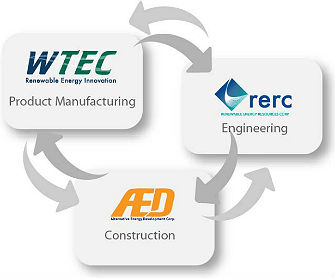 Read more about our vertically integrated group